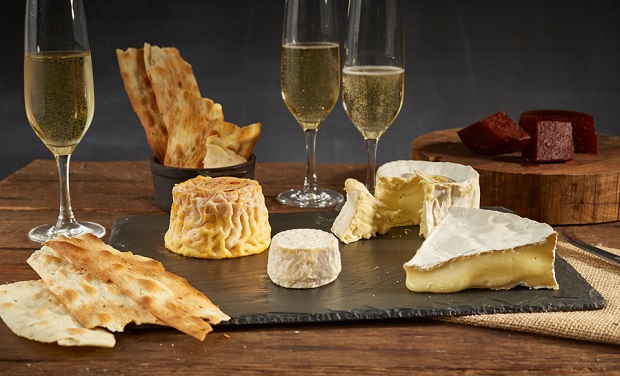 NOTE: Event sign-ups are closed. If you wish to be put on a waitlist in case of cancellations, please contact officers@quesodiego.org.
In celebration of our 11th anniversary, we are holding our very popular annual "Cheese and Bubbly Pairing" event. This is a special multi-course cheese and beverage pairing event that is curated by our outgoing and incoming presidents.
Anniversary Pairing
Tuesday, Feb 15
6:30pm Potluck, 7pm Pairing Start
Marina Village Conference Center, San Diego
This event is open to members who are paid for 2022 and a guest. Household memberships are permitted up to 2 guests (in addition to the
household members). Tickets are limited and first-come-first-serve. Additional guests will only be permitted if we have not sold out as we approach the event date. Any non-members who are not the guest of a member and wish to attend should join for a 2022 club membership for $20 and then pay the member price. Tickets purchased beyond these limits will be canceled and refunded. If you need to make alternate payment arrangements please contact officers@quesodiego.org
Early-bird Pricing (On or before 1/31):
$15 per member
$25 per guest
Regular Pricing (After 1/31):
$20 per member
$30 per guest
REFUND POLICY:
Queso Diego incurs significant advance expenses with facility and table rentals, and purchases of cheese and drinks for the event. However, if illness prevents you from attending the event we encourage you to stay home to avoid exposure to other club members. If you need to cancel your attendance to the Anniversary Party, you may transfer your ticket and we will make every effort to help you replace your reservation with someone on the waiting list, in which case your full payment will be refunded. In the event no one is available to replace your reservation, the club will refund half your ticket price.
To purchase tickets, please pay for your tickets via PayPal to payments@quesodiego.org, making sure to use the "Friends and Family" option to avoid extra fees.
Detailed Instructions:
Log in to your paypal account at paypal.com. If you don't have an account, you will need to create one.
Click the "Send" button
In the To: field, enter payments@quesodiego.org and click "Next"
Enter the Amount: $15 per ticket for member tickets and $25 per ticket for guest tickets.
You should also enter the names of the attendees in the Note on this page. Click "Continue".
Ensure that this page says "Sending to a Friend" or "Friends and Family", and NOT "Paying for an Item or Service"
Select your payment method (paypal balance, bank account, etc). If you choose to pay with a credit card, a fee may be charged.
Click on "Send Payment Now" to complete the transaction.
Note: The steps above are for the PayPal website and may vary slightly for payment via the PayPal App on your phone.
Do you need to renew your membership? You can follow the instructions on the Membership page to renew.