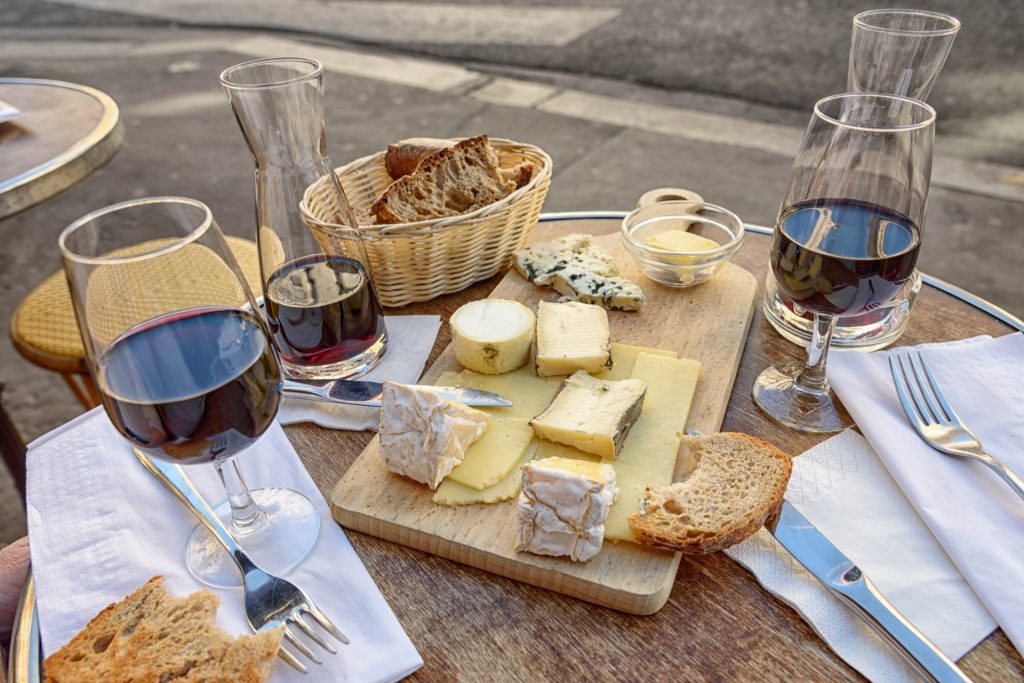 Members have been asking for a cheese and wine pairing and so, we will be lead through a worldly pairing by Rob from Venissimo for our July QD meeting (zoom info at the bottom). Rob leads the Academy of Cheese for Venissimo and is well versed in pairings and presentations. He will pair, mix-and-match, discuss flavors/texture, etc, and he always has some interesting history or background to share.
The meeting is on Tuesday, July 22nd via Zoom
6:30 – social hour
7:00 – pairing presentation
The following wines were selected for the cheese pairing:
Sauvignon Blanc
Pinot Noir (alternate would be a Merlot)
Note: If you don't have these already at home or would prefer different styles of wine to try with the pairing…….there are no rules 😊
The following cheeses were selected to be paired:
Queso Leonora – goat – Spain – soft ripened bloomy rind goat cheese
Holey Cow – cow – California – Alpine
Rustic Red – cow – England – Cheddar
Roquefort – sheep – France – Blue
So, here's how it will work:
Wine – members provide their own (see recommended wines above for the pairing with the selected cheeses)
Cheese – there are two options:
OPTION 1 – Order a cheese plate that will contain 4 of the 6 cheeses listed (I will have to get back to you on which 4 cheeses will be on the plate) and accouterments for the pairing. Cheese plates for members are $15, a 25% discount off the regular price (club is covering the other portion). Members will pick up the cheese plate at Venissimo; we are working on a pickup for the Del Mar store on the weekend (no promises) and at Mission Hills on Monday and Tuesday (the days these stores are open)……stay tuned. So, keep some time open on these days to pickup your cheese plate. I will send deadlines tomorrow for ordering but the following will be how it works
Step 1) Send Marci an email, mjrhjm@hotmail.com, stating how many cheese plates you want by the deadline of 5pm on Friday 7/17. Please specify whether you want to pick up at Del Mar (Sat/Sun) or Mission Hills (Mon/Tues)
Step 2) I will send a response with the pickup time and location. If I do not respond, that means I did not get your email.
Step 3) Pick-up your cheese
Members can pickup at Venissimo in Del Mar, Sat or Sunday 10-3
Members can pickup at Venissimo in Mission Hills, Monday or Tuesday 10-3
Step 4) Save the cheese for the meeting.
I have had some of the cheese plates from Venissimo and they come with a nice volume of cheese and accouterments.
OPTION 2 –
Take the list of cheeses to your favorite local cheese shop and purchase the ones you want.
OR
Buy styles of cheese, as listed above, where you shop. For example, perhaps you can not find the "Rustic Red" but you could purchase a different English cheddar.
……….again, there are no rules, except to eat cheese; So, however, you obtain your cheese is perfectly fine.
I apologize that all the details are not included but we wanted to get the info out to the members for planning. Look for another email, tomorrow.
Zoom meeting link and password were sent out to the members email list.